Decided to do a post about building a custom downtown which is what I had to do once I decided to expand Apple Valley's borders. AV is small since I wanted maximum time playing, but after a while I grew bored of suburban living. I'm a city girl at heart (and an island girl in my soul, but that's another post). I decided to allow my simmies a downtown and Apple Valley Metro was born. (note-AVM is still a work in progress and like AV will always be).
Let's start at the very beginning.
Inspiration
I decided to go for a New York City/Chicago (especially Chicago) vibe since they are both waterfront cities and Apple Valley Metro would be an island. Why an island? The terrain is smaller and faster to load! I LOVE Chigaco and would live there if it wasn't so cold (remember, I'm an island girl in my soul). I knew I wanted a beach boardwalk for closer beach access than a vacation and some urban apartments. I added Lady Starr (the Bella statue) by editing the terrain and building up a small island to place the neighborhood decor. Using MTS I found some ferry decor and pier decor to make a small walkway and Lady Starr Isle was born (modeled of course after Lady Liberty). Lady Starr is not named after my webname-starrsim, but it is named after Greymount's (Apple Valley's TS1 roots) first spokesim-Starr Grey.
Terrain
I decided on
Amber Journey's Sunset Island
as the terrain since it was smaller than Apple Valley's terrain (Golden Bay Island) and had the makings for a ferry dock. I love small terrains, it allows loading times to run much faster and it would provide a very dense appearence to the urban city once lots were added.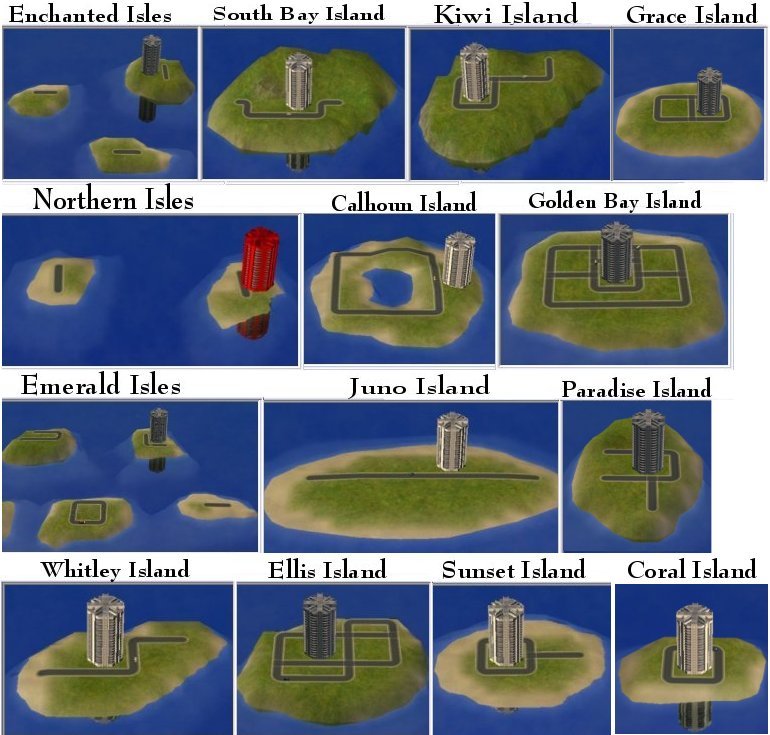 Layout
Apple Valley Metro couldn't be much of a city, mostly crowded and urban. The ferry access is to the north. Luxury apartments and penthouse are towards the north, seady cheap residences are towards the south. The beach is to the east while Lady Starr lies to the west. The center is the business and civic center and a small apartment complex based on a set of lofts (I've found that my commerical lots made with Lot Adjuster lots don't seem to work as well so I'm in the process of creating commercial lots on default maxis lots-ETA: Duh! There's a seperate download for community lot adjuster lots-whoopie! Now I can still have tiny commercial lots!). Not much room for other neighborhood decor except a raised train and a few billboards.
Construction
AV Metro is still in process and undergoing lots of construction and reconstruction until I like it. I recently took out a lot of the apartment buildings (there was room for about 45 sims, which I barely have that many in the main hood) and replaced them with more green space.
Apartments
Needless to say, the apartments went (are going) under multiple renovations, deletions and rebuilts. I deal with mostly 3x3 and smaller lots, which meant that sometimes entire apartment units would have to fit on a 2x1 or 1x1 lot. At the moment the city is overcrowded with apartments. There are 12 lots total, 8 are apartment lots. I am working on decreasing that number to 4-5. Why? Well, I want various lifestyles represented and space is limited so I narrowed it down to the following apartment types:
Morningside Co-Op [2x2]
Description
: 2-2 bedroom luxury apartments with one 2 level penthouse (north). Penthouse includes a lower level rooftop garden. Common area includes bowling alley, business center and sauna. Heavily based on this
building from dacyco
which I couldn't download :(
Construction Progress:
Complete, currently being playtested. MAXIS thinks this expensive lot should be for low class ($1,230 (for the smaller apartments) and $6,450 (for the penthouse) in rent?!!?) I am testing it with the cheat-lot class changer, but I have to reset it each time I enter the lot/add a family. Grrr! I am looking for something a bit more permenant in terms of changing the lot class.
Social Groups
: Socialites
Metro Center Lofts [2x1]
Description
: 2-Mid-Range Apartments in Loft Style (center). Each apartment has a large lofted bedroom and 1 full baths. Features exercise room, party room with bar and buffet and rooftop .
Construction Progress
: Complete, currently being playtested and reworked. Will probably add additional floors to showcase an urban view or simply add a penthouse. However, the lofts are in the center of the city, which would mean the other lots would need to be built higher as well as I don't want the lofts to be the highest building. I added rooftop amenities instead and remove the sauna and massage center to add more square footage and am currently playtesting the changes.
Social Groups
: Techies
Oakwood Townhomes [2x4]
Description
:3-Mid-Range Townhomes (west). Each townhouse has four bedrooms, three full baths, enclosed backyard and front yard. There are no common areas...unless you count the bus stop by the street. Great for families.
Construction Progress
: Complete, being playtested. Again, for some reason MAXIS thinks this expensive lot should be for low class ($4,450 in rent?!!?) I am testing it with the cheat-lot class changer, but I have to reset it each time I enter the lot/add a family. Grrr!
Social Groups
: Jocks, Techies
Carmela Artist Community [2x2] or [1x4]
Description
: 3-4 Mid-Range Apartments. This is the urban Artists Colony with community garden (south). I am experimenting with building with containor crates, but I also like the look of
Black Orchid's Green Village
.
Construction Progress:
2x2 complete and playtesting, 1x4 in progress.
Social Groups:
Gearheads, Bohemians
Economy Studios
(south)
Description: I would love to have cheap cramped studio apartments, we'll see where they fit in since AVM is so small and the seedy part of town is really close to the the nicer parts of town (there's pretty much no seperation!)
Facilities
Current Commercial Lots in Progress or Built:
39th Street
Cultural Musuems (Regional Aquarium, Musuem of History), Coffeehouse, Clothing Store & Salon, Gym, Pet Shop, Electronics Shop
8th Ave
Seedy Nightlife (dance club, strip joints, hotels)
9th Ave
Art Gallery, Indoor Skating, Concert Halls (Regional Orchestra, Regional Ballet). In Progress: Jazz cafe
White (or East) Shore
Pier and Boardwalk with beach access.

Dimensional Park
Parks & Green Spaces with view of Lady Starr